A pre-season challenge tournament - the second Manchester International Tournament was played at the Nynex Arena on the weekend 24/25 August 1997. The teams involved were Storm, Amiens (France), Esbjerg (Denmark) and Tilburg Trappers (Holland).





Amiens are a team playing in the French league that were to have met Storm in the European Hockey League this season, but they changed groups and were replaced by Sparta Prague.





Esbjerg travelled to Manchester to play the Storm at the start of last season in the 1996 Manchester International Tournament. Storm were victorious over the Danish team 7-5, and Esbjerg were then defeateded soundly by Schwenninger Wild Wings 10-2. Esbjerg finished 3rd in the Danish League last season.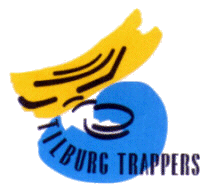 Tilburg Trappers played in the Europa Cup last season against Sheffield Steelers and the Steelers won 5-1. They play in the Dutch Premier League.

Storm won the touranment with a 9-0 defeat of Tilburg Trappers and then beat Amiens 10-3 in the final. In the other games, Amiens defeated Esbjerg 8-3 and in the play-off match, Esbjerg beat Tilburg Trappers 5-3.


On Wednesday 3 September, Storm played a challenge game against Interlaken.




Interlaken are a Swiss team that are touring the UK throughout September. They will play the challenge match at the Nynex Arena as part of a series of matches while they are on their UK tour. Interlaken are a Swiss Liga 1 side. The Liga 1 is the division below the National Leagues of which there is a National League A and National League B. The Interlaken team had finished second in Liga 1 and so qualified for the promotion play-offs to National League B but were unsuccessful and so were not promoted. Storm defeated Interlaken 16-1.


On Tuesday 27 January, Storm played their annual challenge game against Altrincham Aces.





Altrincham Aces play in the English League Division One and Storm play a challenge game against them each season, although usually after the play-offs. The game is very light hearted and usually involves mixing the teams. Storm Select won 9-7.


---
These pages are maintained by Simon Sandiford-Mitchell and hosted by U-Net.