If you've never heard of Manchester, it is the second city after the capital London in the UK. OK, Birmingham might argue with that, but we all know it's true. Manchester is a city of sporting excellence - you only have to see Old Trafford football ground to see that. There is a wide range of sports represented in the city - mostly at the top level. But where exactly is Manchester? If you're from the other side of the world, you may need a World map to help you...




This map of the UK shows Manchester and all the other Superleague ice hockey teams marked...




To reach Manchester and the Nynex Arena from the North West, this map may be useful...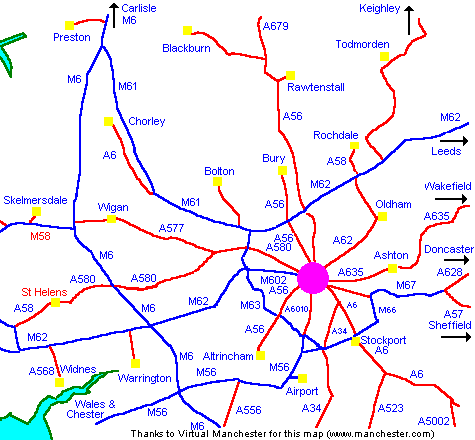 If you can't visit Manchester in person, then the next best thing is Virtual Manchester! This excellent site has all you need to know about Manchester.




---
These pages are maintained by Simon Sandiford-Mitchell and hosted by U-Net.