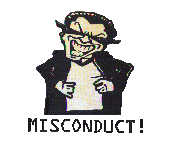 THE JUNIOR STORMFORCE EVENTS THINGS - TRAINING SESSION

Interesting......if you like that sort of thing!..... personally we found it boring and uninformative (and the players obviously didn't want an audience), but the kids enjoyed it! Well done to John Finnie, the obvious choice for the Junior Stormforce player of the year award!

Hilton do you always wear odd socks to train in?

Thankyou Kindly,
MISCONDUCT!


---

THE JUNIOR STORMFORCE EVENTS THINGS - BURGER KING

NIGHTMARE! Brilliant idea - crap venue! (packed would be an understatement) Mike Morin...hand back that crown to the rightful king! (Elvis Aron Presley!)

Thankyou Kindly,
a fed up of people
MISCONDUCT!


---

DON'T BRING BACK BYRAM CAMPAIGN!!

We were shocked by the rumour that Byram will return next season! He may only return if he agrees to these three terms :-

1) He gets a hair cut
2) He returns his puck control skills to Mark Pallister
3) He wears number 99, instead of 16 (because he's last!)

Thankyou Kindly
(there that should get a response!)
MISCONDUCT!


---

A BIG THANKYOU TO TOOMS! (shocker)

Dale Jago, we thank you kindly, from the bottom of our hearts, for obviously putting the "drum tart" out of her misery... it's a shame you had to strain yourself in the process!!

Thankyou Kindly,
MISCONDUCT!


---

TICKET AVAILABILITY (shocker)

We have noticed,to our dismay, that away fans can have any seat/row/block they like in the storm shelter, yet at any other arena, we are plonked in one block and if that get's filled it's tough cookies, you can't go..Even though there are plenty of empty seats elsewhere in the arenas! ie. Sheffield : We are given one block downstairs, the allocation of which is usually stormforce, and if that get's filled you have to sit upstairs and if you ask for a certain block, it's for home fans only!

When trying to get tickets for the Sheffield match on Tuesday 21/01/97, we rang the number given in the Storm match programme, this was in fact the number for the Steelers offices, we were told there were still tickets available in the supporters block and given the correct number to phone. When we rang the box office we were told there were none! Until we protested that there were indeed tickets left.....then, miraculously four tickets at the very front of the block appeared!

A word from the wise...Ogdens....give away fans one block and any stragglers can sit in the gods....Why should the home fans get crap seats, they're the ones handing you their money every week, not the away fans!

Thankyou Kindly,
a disgruntled
MISCONDUCT!


---

LINDSAY IN EGO TRIP WITH ADAM PONTAPEE SHOCKER!

Well it's happened again! The male pride thing,once again reared it's ugly head! Didn't it Mr Lindsay? And once again a game misconduct penalty was given, in a match where we needed all our defence men! It's a shame that it is such an impossibility to be a man and walk away, but no, you knew better! To pick a fight with Adam Pontapee (see Seven Brides for Seven Brothers) a man obviously bigger than you - the true reason for the fight- why not take a leaf out of Hilton's book and just walk away, we would have been far more proud if you'd have just humiliated Adam instead!

Consider yourself told off! Now write one hundred lines saying :-
I can walk away, I will walk away!

Thankyou Kindly
A stern
MISCONDUCT!


---

AND FINALLY, AS PROMISED, THE EAGERLY AWAITED...... TOP TEN STORM STRETCHES AND STRETCHERS

10) BART FOURTEEN LETTERS - BEST STRETCH OF NOT PLAYING - EVER!

9) HILTON RUGGLES - CHAD IMPRESSION THING - best seen from block 115, all you can see is his gloves and face over the top of the bench, while he's stretching his legs.

8) MIKE MORIN - STICK BEHIND SHOULDERS, SWING SIDE TO SIDE WHILE SKATING THING - speaks for itself, donated to us, courtesy of Liz

7) DALE JAGO - LEG OVER BENCH STRETCH THING - best seen at away matches in black away top

6) CRAIG WOODCROFT - LIE ON LEG THING - explanation - he pulls his leg underneath him and leans on it

5) BRAD TURNER - I'M TRYING TO GET OUT OF A STRAIGHTJACKET THING - he wraps his arms around himself, with his stick behind his back, and twists, while skating

4) MARTIN SMITH - TWISTY WAISTY LEG THING - this is apparently yoga, he lies on the floor and pulls a leg over to the opposite side of his body (eg left leg to right side of body)

3) ERIC RAYMOND - THE SPLITS - need we say more!

2) JOHN FINNIE - MAD RUSSIAN DANCE THING - he does what appears to be a Russian dance thing and it makes us laugh

1) BRAD RUBACHUK - BREAST STROKE LEG THING AND WEIRDY BENDY OVER BACKWARD THING - first encountered by the MISCONDUCT! team (to our great delight) at Sheffield on 21/09/96, this is best seen from block 103 at the Nynex, you get a kind of aerial view of it, it never ceases to amaze!

During the writing of this Top Ten a member of MISCONDUCT! demonstrated all of the above, we recommend that you don't do these at home, and leave it to the professionals!

Thankyou Kindly
In happy thoughts
MISCONDUCT!


---

WE GOT SOME E-MAILS!

We recieved several mails today. WHOOSH! here is one of said several:-


Dear Misconduct,

I was at the match tonight and I had the misfortune to be sat behind what appeared to be the Sad B's. Sadly this seat was right behind our bench. (Are these people here every week? No wonder we lose.....Talk about negative reinforcement!)

Now about supporting your team? No way! These people, in this privileged position, were abusing the players who were but a few feet before them! Can you believe that? No neither can I!

If you are going to support your team then the least that you can do is give them a little bit of encouragement. The last thing you want to do is showboat to the Cameras. If the only reason you want to go to a match is to criticise, then the best place you can be is at home! We do not need supporters like you, no matter what you have written on the back of your shirts.

I think that the boys did well tonight against the Cardiff Devils, and if they can manage to build on this rather than let it just pass into history then maybe, just maybe.

Listen, support your team; don't give them any more grief.

Let's go Storm! Let's go.
All the best,

Steve.

BTW. If any of the said "Sad Bs" want to have a crack themselves against Cardiff then I'm sure it can be arranged. In fact.... I think I can give them a bloody good go themselves. (All mouth and no trousers.... that's my opinion.) I remain, as ever, a devoted Storm fan.

Steve.
Manchester, England.

All we can say is:- It is an apt name! We could go into great detail of our own as well as other fans experiences with above named people, however, we have neither the time nor the inclination to do this!

While we're on the subject of last night's game..we would like to say something about Nicholson...but, it would indeed be lewd, crude and rude all at the same time!...so we'll wait until we can think of something that isn't and leave it on the guestbook!

We also received this too:-


Mis..

Were you sponsoring the penalties last night? - al la House of Aloominum!! (Canadian pronunciation)

LIZ

Ha Ha! Very funny, NO! However, we did notice that the MISCONDUCT! craze has reached the referees!

Thankyou Kindly
A worn out
MISCONDUCT!


---

GROSKA SHOCKER AT NYNEX!

MISCONDUCT! can exclusively reveal Newcastle's defence tactics! They are : "HIT 'EM WHERE IT HURTS AND RUN AWAY VERY QUICKLY"

Nick Poole and John Finnie were indeed casualties of this tactic...Nick Poole was seen by 4,000 + some more people (including his mother and aunt) crawling off the ice. We believe this is what was going through his mind at the time......every time he put his hand down to pull himself towards the bench, he was muttering to himself "Thank God it's not Sunday, only 4,000 people!". He then went into full strop mode, threw his gloves off, STORMED into the changing area, threw off his helmet, held his nose and blew until he heard a popping sound......then he returned to the ice. He now has a mighty fine limp as displayed at the Arches, postmatch.

John Finnie recieved a powerful blow to the gonad area (the entire arena sucked in a lot of air!) he remained in the same position for quite some time, and we believe he gave a short yet stunning impersonation of M Mouse until again the popping sound was heard!

We would also like to know....is this what happened to the linesman in the third period.....and did Mike Morin say to him "Hold your nose and blow until you hear the popping sound, it works for us every time!"....and is this what made Folka swipe him across the head?!

Humph! Did Woody get Man of the Match for the way he sticks his tongue out when concentrating. Has he ever bit his tongue whilst doing this? Can his tongue reach his nose? Has he ever been heard to exclaim "There's a snake in my boot!"? Does he secretly meet Little Bo Peep after the match and if he does, who looks after the sheep?

Finnie deserved Man of the Match!

Have you ever noticed that the "Drum Tart" is shouting: BOOM! BOOM! BOOM! LET ME HEAR YOU SAY TREACLE!
It might be helpful if Jago would actually cure her of her obvious obsession. And then she might stop shouting like a fishwife!

Thankyou Kindly
Pop! Pop!
MISCONDUCT!

PS. Folka should eat more carrots....that's what donkeys eat and they help your vision....eeeeeaaaaaw!
PPS. Are there any Newcastle players with names with less than 10 letters in them? (apart from Askew)


---

A SONG FOR MIKE MORIN

Our mum believes that Mike Morin (with his black eyes) resembles a hamster we once owned called Ben. In honour of our mum having a special place in her heart for him we changed the lyrics of the song special, at him:-

MIKE

Mike, the two of us need look no more,
We've both found what we were looking for,
With a Mike to call my own,
We'll never be alone,
And Mike Morin, you'll see,
You have a friend in me!

Thankyou Kindly
(squeak!)
MISCONDUCT!


---

THE TOP TEN STORM BABES!

MISCONDUCT! have assembled their very own, special at them, Storm Top Ten. We will now present this to you in reverse order (cue "Top of the Pops" music)



10) NICK "NUTTY JOE" POOLE
 9) HILTON "ST" RUGGLES
 8) CRAIG "OW! I'VE JUST BITTEN MY TONGUE!" WOODCROFT
 7) DALE "TOOMS" JAGO
 6) STEPHEN "ELVIS" COOPER
 5) MARTIN "THAT'S ONE HELL OF A NICE STRETCH" SMITH
 4) BRAD "SURE DID PUMMELL THAT BEE" TURNER
 3) ERIC "ICE DEMON" RAYMOND
 2) JOHN "ICE DEMON" FINNIE
 1) BRAD "THE NOT SO SOLID ROCK" RUBACHUK

And in next weeks chart, we have:-

THE TOP TEN BEST STRETCHES AND STRETCHERS IN THE WARM UP PERIOD!

Thankyou Kindly
MISCONDUCT!


---

LAWLESS SIGNS CRIPPLES SHOCKER!

It would appear that John Lawless has indeed bought two new cripples for the team, said cripples are :

BART "WILL HE EVER PLAY?" FOURTEENLETTERS
ERIC "OUCH YOU'RE HURTING MY BACK!" RAYMOND

Will we ever see these players again before the end of the season?

Thankyou Kindly
a well
MISCONDUCT!


---

LAWLESS BUYS REMOTE CONTROL NETMINDER SHOCKER!

It would appear that new signing (the above mentioned) Eric Raymond is in fact remote control, if you ever see him play again.....watch him.....he's a nutter!...he closes the angle on imaginary players. He also skates along the blue line and then turns towards the net and we believe this is because there is no diagonal direction on the control panel!

Thankyou Kindly
an observant
MISCONDUCT!


---

STORM TAKE STING OUT OF BEES (for now)

Finally.......we got to play "Another one bites the dust"

May we just say...we took great offence at the Bees M. Ellis for throwing us the worst attempt at a dirty look ever!!! So we made up yet another song to the same tune as the last one.....specially for him :-

BUZZ OFF BACK TO BRACKNELL!
BUZZ OFF BACK TO BRACKNELL!
BUZZ BUZZ BUZZ BUZZ!
BUZZ BUZZ BUZZ BUZZ!
(repeat to fade..)

We would also like to ask if anyone else saw what we saw when Turner and Brant got put in the sin bin for their little roughing incident... We saw some people sat at the front of Block 103 (behind the Stormforce posse) turn to look at Brant in the sin bin and then made gestures that made it quite clear exactly what they thought of him! (sorry we can't print it on the page as it was indeed Lewd, Crude and Rude)

Thankyou Kindly
A shocked
MISCONDUCT!


---

STEELERS v STORM

Another loss for Storm even though they could have won if they'd just have been playing against the Steelers, alas....once again, they were playing the officials (once again, Matt Folka refereed!)

We were quite stunned by the fact that the "Sad B's" were calling Stephen Cooper "Pooper Scooper" (Yet the last time we were at an away match they were calling him "Super Cooper"

MISCONDUCT! has a theory..... Maybe it's because he skates around picking up all the mess and chaos that "sh*t shooter" Shawn Byram managed to create when passed the puck!!! (we think he's inherited Pally's puck control!)

Aside from that it was a pretty uneventful evening....... or so we thought ..... we had wondered why Byram wasn't icing last night.... we found out in the Manchester Evening News tonight........

Here's what MISCONDUCT! think went on in the dressing room at Sheffield.... (WARNING! You must have a sense of humour before you read on........ this is in no way shape or form what actually happened in the dressing room)

The Scene: The Dressing Room
The Time : End of 1st Period

BYRAM: Gee whiz my hair needs a bit of a trim! Are you up for it Martin?
M SMITH: Excuse me?!
BYRAM: Will you cut my hair again?
M SMITH: Sure but it'll cost you £3.99 cash money sterling
BYRAM: What?! I'm not paying that it's extortionate! Nick Crawley didn't charge Coops anything!
M SMITH: No, it's cut price, it's cheaper than your average barber, anyway Nick's got nothing better to do nowadays than wear orange shirts!
BYRAM: (in a sulk) mumble mumble I'll do it my bloody self then mumble mumble
M SMITH: Suit yourself but it won't look as good

ENTER STAGE LEFT NICK POOLE AND STEPHEN COOPER

POOLE: Shawn they're calling you "Sh*t Shooter" out there, I think it's 'cos you need a hair cut
BYRAM: OH! Says the man with his hair in curtains in his eyes all the time

COOPER: Hey! I think his hair looks smart, it makes him look just like Nutty Joe off Eastenders
BYRAM: Butt out Elvis, no one asked you!
COOPER: Oh get lost FISHMAN (see end of season video)
BYRAM: What do you mean by that eh!
COOPER: (very sarcastically) Hey what's in the fish pie Shawn?!

A little scuffle ensues and Byram's name is loosened on the back of his shirt, but, he was unaware of this and the linesman had to pull it off at the beginning of the second period.

The Scene : The Dressing Room
The Time : End of second period

The squabbling resumes over the hair cut.......

ENTER JOHN LAWLESS

LAWLESS: Bysy your hair could do with a bit of a trim mate!
BYRAM : Well Martin won't cut it for me!
M SMITH: Yes I will, you just won't pay £3.99 cash money sterling to have your haircut!
LAWLESS: That's cut price, it's cheaper than your average barber, what's the problem?
BYRAM: mumble mumble extortionate mumble mumble
LAWLESS: Is this what that little scuffle was about?
COOPER: He called me Elvis!
BYRAM: I did not!
POOLE: You did too!
LAWLESS: Stop acting like children and you Byram can start playing some good hockey for a change!
COOPER: Yeah! You sh*t shooter I'm sick of picking up the mess you leave every time you get hold of the puck...you do realise they're calling me "pooper scooper" out there don't you!!!!

SOME SNIGGERING IS HEARD FROM SEBASTIAN....

COOPER: What are you laughing at?
SEBASTIAN: Nothing! (all innocent)
COOPER: And while everyone's bitchin' you can do the washing up when we get home.
SEBASTIAN: But it makes my hands all dry!
FINNIE: Never heard of Fairy, that's what the rest of us use, here try some (hands Sebastian a bottle of washing up liquid)
STORM CHORUS (at Sebastian): For hands that do dishes can be soft as your face with mild green fairy liquid!
LAWLESS: Let's go play some ice hockey and stop messing about, if the fans only knew what was going on we'd be a laughing stock!

The Scene: The Dressing Room
The Time: End of the match
The Mood: Byram is now in full strop mode after all the ribbing that he has received during the third period off his team mates (and a few comments about his hair by Jamie Leach and Nicky Chinn)

BYRAM: I'm sick of this, none of you will let me forget the fish pie incident and you're all having snide digs about my hair!
RUBACHUK: You just can't face the truth, that because of your hair needing a bit of a trim we lost that game!
RUGGLES: Yeah Bysy, shut your moaning hole and get your hair cut, I'll lend you the money!
BYRAM: It's not the money that's bothering me "STRUGGLES"
RUGGLES: You what?!
BYRAM: That's what they were calling you ..."STRUGGLES"
WOODCROFT: You leave him alone, he's doing his best, you just get your hair cut!
BYRAM: Right that's it I'm leaving! I don't have to take this!
JAGO: No you don't have to, but you certainly must have a hair cut!
LAWLESS: WILL YOU LOT PACK IT IN!!!!!!!!! Oh, by the way Bysy, I've made you an appointment at the barbers for tomorrow at 10am
BYRAM: Well I'm not paying for it!
LAWLESS: Well if you don't go....you walk!
BYRAM: I'll walk now then
LAWLESS: Where will you walk to?!
BYRAM: I could go to Ayr, they let Scott Young play, but I won't I'll go to Italy!
LINDSAY: They won't have you with hair that needs trimming
BYRAM: Right! That's it! I'm off!
PENNEY: Go on then, go!
BYRAM: I'm going!
ZAVISHA: Go then!
BYRAM: I'm going!
MORIN: Well stop mouthing off about it and go!
BYRAM: I'm going (shoving his equipment into his bag)
LATTA, CALDER & TURNER (in unison) : Will you just go! We've had enough of your constant whinging! And we've not been here that long!

BYRAM PICKS UP HIS BAG (after running his fingers through his hair which is in bad need of trimming)

BYRAM: I'M GONE!

THE DOOR SLAMS, LADIES AND GENTLEMEN, SHAWN BYRAM HAS NOW LEFT THE BUILDING!


If you so desire you may recreate this incident in the safety of your own home!

The events in the above play are purely fictional and bear no resemblance to real life or what really happened in the dressing room. We apologise for any distress that our special play may cause!

Thankyou Kindly
A very mischievious
MISCONDUCT!


---

[Back to MISCONDUCT! Index page]
---
These pages are maintained by Simon Sandiford-Mitchell and hosted by U-Net.